A restaurant is one business that caters to a customer's taste, both literally and figuratively. Free and easy Wi-Fi not only lets customers get information about your establishment, but it also lets you do a better job of providing what they want — or even make them want something new. There are many ways you can influence behavior to help customer satisfaction and loyalty, and ultimately grow your business. Wi-Fi access is an increasingly important option in that toolbox.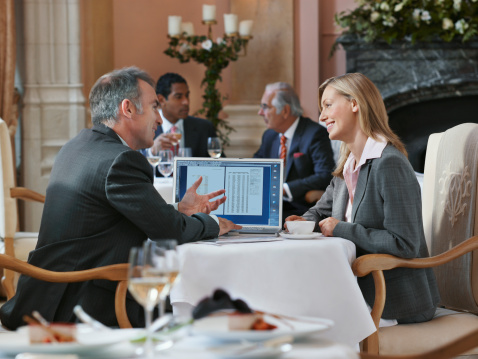 Wi-Fi is Now a Requirement on the Menu
Most customers now expect free Wi-Fi at dining establishments, especially at cafes and fast/casual restaurants that are proliferating quickly these days. Wi-Fi is at or near the top of the list of key factors when people are deciding where to eat. With so much routine activity concentrated in everyone's smartphones, most people don't want to take a break from that when they stop for a snack, drink, or meal. Take a look around any coffee house or lunch spot – it's a pretty small minority of patrons who are not on a phone or computer. The restaurant business is adjusting to the concept that reliable, free Wi-Fi can be more important than the food that they provide, but most are absolutely fine with that, given the marketing leverage it can provide.
Data is a Two-Way Street
So, how does a restaurant take advantage of customers using Wi-Fi? Obviously, if patrons have to log into an account to get Wi-Fi access, the business can extract an enormous amount of useful information. Purchasing patterns and history can be used to create real-time offers and special deals for similar products, prompting patrons to spend more.
A restaurant, like any other business, should also make it very easy for customers to provide positive reviews or alert their networks to their experiences at your restaurant. Having your app on their phone makes that easy and keeps you in the forefront when they are deciding where to eat.
On a larger scale, a restaurant can gather useful cumulative data to create broader strategies. They could see, for example, that peak Wi-Fi usage is in the morning, or that long duration but low revenue business is mid-afternoon. Marketing efforts could be tailored to take more advantage of these customers. Perhaps morning Wi-Fi users could get a special deal on purchases at another time of day, which would encourage more and different business from already loyal customers. Similarly, the people sitting for hours with one coffee during a slow time could be presented with a deal that encourages them to buy something. A reminder of fresh products that appear with every half-hour of Wi-Fi usage could be an effective prod to those people. You don't want to scare them away, but encouraging them to spend is fair game.
Targeting the Business Traveler Segment
One particular group that can be targeted with Wi-Fi is business travelers. Many business travelers are specifically looking for a place to park and do work for a bit between meetings or while waiting for a flight. These people are also often spending "other people's money" on their expense accounts, so nudging them upward in their purchases while they are logged in can be a productive strategy, too.
Bralin Technology Solutions is the trusted choice when it comes to staying ahead of the latest information technology tips, tricks, and news, whether for Wi-Fi marketing strategies or any other IT topics. Contact us at (306) 445-4881 or (306) 825-3881 or send us an email at info@bralin.com for more information.