If the average professional spends 30% of their time looking for lost documents, that's 12 hours a week going paperless can give back to each employee.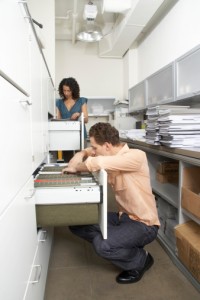 In the past, paper was required for businesses, but in today's modern workplace, going paperless greatly revolutionizes productivity – letting your employees focus on what's important: getting their work done. Ultimately, going paperless is no longer an option.
How does going paperless revolutionize productivity? Here's are the top 3 ways:
Operate efficiently:
Time is money, and if your staff members are wasting time sifting through paperwork, they're losing valuable time that could be spent on otherwise productive tasks. An electronic document management system lets you operate more efficiently as documents are easier and quicker to find, view, manage, and share.
Reduce errors:
When you go paperless with a document management system, you greatly reduce errors, which means you're not losing time trying to fix incorrect documents or address customer confusion that results from incorrect information.
Speed up service:
Paper records stored in filing cabinets quickly become a major drain on productivity and office space when a customer requests something, and someone has to spend upwards of half an hour trying to find the information they need. Going paperless through a document management system significantly speeds up service.
Going paperless: saves you time AND money!
Contrary to popular belief, electronic document management systems are actually LESS costly than paper records. How? According to Inc. Magazine, the labor costs associated with paper are quite hefty:
Searching for a misfiled document ends up costing $120 per
Recreating a lost document costs $250 per
Are you ready to go paperless to revolutionize productivity? Do you need assistance finding the right solution? Contact Bralin Technology Solutions at (306) 445-4881 or (306) 825-3881 or send us an email: info@bralin.com.