It's clear that Microsoft fully intends to push all of their clients in the direction of the cloud, especially with their most recent release of Office 2016, the new desktop business productivity suite, which includes many cloud integration options such as real-time collaboration on documents.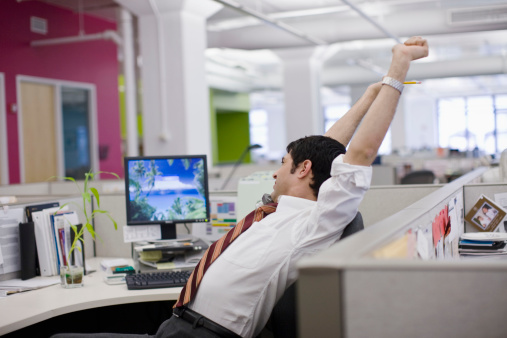 It is also clear that companies and businesses are quickly learning the benefits of using cloud based applications, because they eliminate the need for IT departments to have to purchase and deploy new software year after year, as well as ensure inherent backup capabilities and the easy accessibility that is provided by the cloud.
Microsoft answered the call for cloud applications with the release of Microsoft Office 365 back in June of 2011. This software was the company's first subscription based, business application suite that is hosted in the cloud. Although Microsoft is not the first company offering a cloud based office suite (Google Docs and Sheets have been in operation since 2006), they have an advantage competitors don't with the worldwide popularity of Microsoft Office. Microsoft Office was originally introduced in 1990, and by 2012 boasted over one billion users around the world. Because of the fact that so many companies and individuals have been already comfortable with the Office platform, the majority has been moving to Office 365, as it seems to be the perfect solution to moving to the power of the cloud, while still maintaining the user interfaces and application options that employees are already accustomed to and familiar with.
Reasons Why Businesses are Opting for Microsoft Office 365
Let's take a look at some of the key reasons why so many businesses are making the move to Microsoft Office 365, as described below.
A vast majority of businesses and organizations have depended on Microsoft Outlook as a means to manage their business emails, meeting scheduling, calendaring and a range of other purposes. Shifting away from the application poses many challenges. It has recently been reported that many companies have in fact switched to Google Apps, but are still relying on Microsoft Outlook for their email needs. The major downfall to this is that Gmail and Microsoft don't interact flawlessly with each other. Emails can be synced without any issues, but properly accessing and using Google Calendar is very difficult through Outlook.
As a solution to this, many IT members are suggesting a migration over to Microsoft Office 365 so they are better able to meet the needs of both C-level executives as well as all of the employees who are already comfortable with and currently using Outlook.
Powerful Integration Options
Outlook runs on Exchange Online as part of Microsoft Office 365, and features several integration options for a variety of other applications within the Microsoft Office suite. Users have the ability to attach recent documents from within Outlook itself, as opposed to having to search through their saved files in order to attach and send. It is also possible to integrate OneDrive with Outlook, as well as Skype for Business. This means that users are able to conduct a wide range of functions all from one screen.
Heightened Enterprise Support
Whether using traditional deployments, or a cloud platform, Microsoft offers all of its clients, around the clock technical support. It is true that other providers offer 24/7 support both online and via telephone, however enterprise Microsoft Office 365 subscribers benefit from having dedicated account managers who are always available at a moment's notice.
Despite the fact that consumers have several different options available to them when looking to move to the cloud with their office suite, Microsoft Office 365 is rapidly becoming a frontrunner as the leading cloud office suite provider.
Make sure your move to Office 365 is the right one with Managed IT services. Give us call at (306) 445-4881 or (306) 825-3881 or send a message over to info@bralin.com for more information about Microsoft Office 365 and how our Managed IT services can truly help your business thrive.