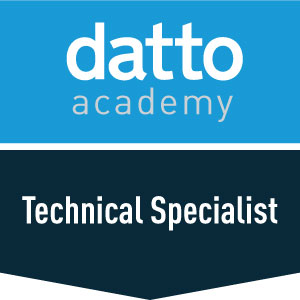 Bralin Technology Solutions is thrilled to announce that network engineer Mahidhar Venna is now a Level 2 Datto Technical Specialist!  We use Datto to provide total data protection for our clients – backup, disaster recovery, business continuity.
Mahidhar passed the Datto Technical Specialist Level 2 certification exam with flying colors, earning a certification that will allow Mahidhar to provide more insightful and skilled troubleshooting and networking services for businesses that rely on Datto solutions. When our technicians put in the time and effort needed to build new skill sets and expand their knowledge bases, our business – and more importantly, our clients – benefit from the results.
This level of expertise enhances the services we're able to offer to our clients' businesses, and we couldn't be more proud of Mahidhar's accomplishment. Congratulations!
Want to learn more about the IT network solutions we offer? Contact us today at info@bralin.com or (306) 445-4881 or (306) 825-3881. We're the trusted IT experts for businesses in North Battleford & Lloydminster.