CEOs are some of the busiest people we've ever met, and we've met a lot of people.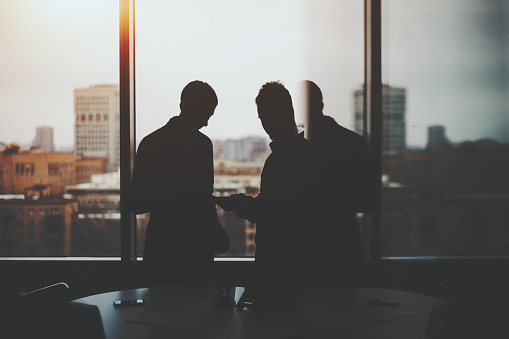 What do CEOs do? The answer to this question is as unique as the company a given CEO is busy running. If we polled every CEO we know and asked what their primary goal is, we'd likely only get a handful of overlapping answers – but we're betting they'll all share a common theme: managing people and money.
Today it doesn't matter if the CEO founded the company or rose through the ranks and was ultimately promoted to the position. The modern CEO is expected to have mastered certain skills:
Human Resources: Quite literally, CEOs are responsible for hiring the "human resources" needed to operate effectively, thus overseeing key senior management roles within a company.
Basic Accounting: At some point in their career, a likely CEO fulfilled the duty of managing a departmental budget and was tasked with cost-cutting where appropriate, without compromising quality or productivity.
Staff Management: Considering oneself a "people person" doesn't cut it — the day-to-day operations and management of a team involve constant juggling of communication, compromise, and collaboration.
Has the principal function of a modern CEO evolved to focus on managing people? Making sure the right people are in the right positions, is critical. As stated above, being a "people person" isn't enough – superior communication is a fundamental requirement of a member of senior management. A CEO must understand the needs of his or her staff and the needs of the company – and find a way to compromise for the best results. Successfully marrying these two independent sets of needs can understandably pose a major challenge.
Use Two-Way Radios
Every organization is unique, but one thing is shared: people. People are the cogs that make a company function like a well-oiled machine. From interns and administrative assistants to specialists and management, each position must be filled with qualified people – this is the backbone of any successful business.
This all sounds like a chaotic organizational chart, but it underscores the importance of the corporate hierarchy and the flow of communication. What isn't happening in so many organizations is the focus on the two-way flow of communication.
Where might a flaw in communication flow be most obvious? Just ask the CEO – in some cases the former CEO – at any of the companies that recently made the news for experiencing massive data breaches, such as:
Target, 2013
Sony Pictures, 2014
Home Depot, 2014
Anthem, 2015
Ashley Madison, 2015
Equifax, 2017
It seems pointless to ask the CEO of Target or Equifax what they would have done differently if they knew then what they know now, but this may be the most valuable advice available. For example, for which department might they have considered budgeting more money? In the months leading up to each instance, it's unlikely there was an immediate need to beef up cybersecurity.
Is Your Data Defense Lacking?
The general public may never know the true extent of these now-infamous data breaches, and just how hackers were able to access their sensitive and secure data. One thing is obvious: there was a clear break in the communication chain between senior management and the IT staff tasked with safeguarding these assets.
Data protection is big business, and the failure to keep data secure can effectively cripple your bottom line. The hidden cost of a data breach is immense:
The common response to a data breach is to offer one year of identity theft protection to all consumers affected, at a cost of millions of dollars.
The financial loss to credit organizations for purchases made using stolen identities.
The negative impact on a company's public image, and the resulting loss of confidence, and subsequently, profit.
The affected organization is in reactive mode for months following a data breach.
Did you know the average cost to a company with a security breach is over $5 million? By comparison, Target's breach cost an estimated $1 billion.
It's a safe assumption that the CEO of each company in the list above was out of touch when it came to cybersecurity. We ask a few questions to determine the root problem:
Do executives fail to appreciate the true value of cybersecurity in general?
Do CEOs fail to relate data insecurity with financial loss?
Is data security seen as more of a luxury than a necessity?
We don't think any of these are independently the issue; it's more likely that the CEO thinks everything necessary is already being done. Again, this shows a major lapse in communication.
Does Today's CEO Need To Be Fully Versed In Data Security?
The answer? Don't expect the CEO to be a security expert, but rather, find the best human resources possible to oversee data security, and then encourage open dialogue and a two-way flow of communication to ensure adequate protection.
Ask yourself how your communication flow is structured:
Who is tasked with overseeing cybersecurity measures at your company?
Who is responsible for ensuring the latest improvements are considered?
What methods are in place that are just "sufficient"?
When was the most recent full review of your cybersecurity strategy?
By initiating communication and proactivity, you eliminate barriers to address true needs and minimize risk to your company – and your profitability. This leads to a lower overall cost impact in the long run, which equates to a common-sense approach for a CEO.
Tech Task Force
Working together, a CEO and senior-level executives can communicate openly with IT staff to discuss the needs of the company and assess the cost/savings benefits of cybersecurity to establish a comprehensive security strategy and safeguard data.
Long-term success in business relies on compromise, collaboration, and communication – at all levels of an organization.