On Thursday, February 1st, 2018, Jeremy and Kari Reynoldson attended the 2017 Reseller Choice Awards and 50 Best Managed IT Companies Gala Dinner at the Old Mill hotel in Toronto. Companies up for this award are subject to a stringent set of questions and criteria designed to determine which companies truly excel within their industry.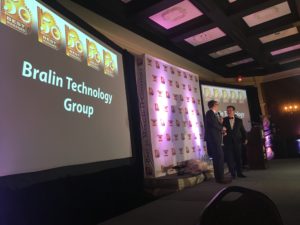 Jeremy Reynoldson accepted the award on behalf of the Bralin Technology Solutions team.  He said, "We couldn't be prouder to have been recognized as one of the 50 Best Managed IT Companies in Canada. This award signifies that not only do we provide stellar client services and top-notch IT support, but we have a reputation as a company that vendors and other industry professionals are excited to work with. Gaining this recognition means more opportunities for us to work with the best of the best, allowing us to bring even more technology excellence to our valued customers."
Want to learn more about what Bralin Technology Solutions' award-winning IT support services can bring to your business? Get in touch with us today at info@bralin.com or (306) 445-4881 or (306) 825-3881.