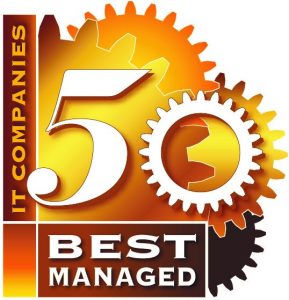 The Bralin team is thrilled to announce that we've been given the honour of being included on the list of the 50 best managed IT companies in Canada.
In order to be considered for this award, Value-Added Resellers (VARs), Managed Services Providers (MSPs), and Internet Telephony Service Providers (ITSPs) are asked to complete a 200-question assessment that evaluates 12 areas of best practices. The results are used to generate a score out of 100, and only the 50 highest ranking companies are acknowledged as Canada's best.
An award like this is especially meaningful for Bralin Technology Solutions, as it's not based on statistics or sales, but on our ability to provide industry-leading services and support to our valued clients. As technology continues to evolve, providing support that is consistently effective and at the standard we are held to by both our clients and ourselves becomes challenging. Our staff works hard to make sure our knowledge base and skill set continues to be our best asset.
We are constantly working towards bettering ourselves as a business and as individuals. To have that effort and drive recognized is a wonderful feeling. The Bralin team will continue to improve our customer service and support offerings to give your business the best experience possible and to honour the trust you have placed in us.
Our clients are the reason we do what we do, and the reason we are able to do what we love. We look forward to continuing to prove each day that we deserve your business, and this amazing acknowledgment.
To learn more about what one of Canada's top MSPs can offer your business, get in touch with us at info@bralin.com or (306) 445-4881 or (306) 825-3881 today.