The Bralin team is proud to have participated in the Battlefords Chamber of Commerce Business Golf Challenge. Held at the North Battleford Golf & Country Club on May 26th, the event brought together representatives from dozens of community businesses to play a Texas scramble, network, and enjoy the outdoors.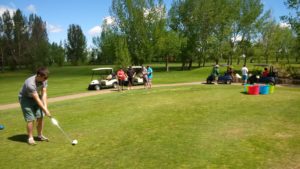 Bralin was also pleased to act as a sponsor at the event.  We hosted hole 11, where we played 'golf pong'.  All teams willingly participated, and it kept us thoroughly entertained throughout the day.
Bralin entered a team of four for the Business Golf Challenge – Brad Kowerchuk, Warren Williams, Brett Payne (Canadian Tire), David Gillan (City of North Battleford). Our members played well and enjoyed their day outside with other members of the Battlefords business community.
Bralin was excited to once again be a part of an event that directly involves our local community.  We look forward to next year's tournament!
For more information about our role in the Battlefords business community, don't hesitate to get in touch with Bralin right away at (306) 445-4881 or (306) 825-3881 or info@bralin.com.