Augmented reality was previously in the realm of science fiction –But, no more! The upcoming iPhone 8 release is expected to bring this to life for Apple lovers everywhere.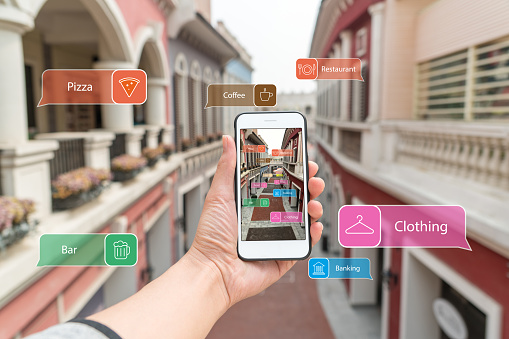 In what's rumored to be one of the biggest technology releases in quite some time, Apple is gearing up to launch their tenth-anniversary iPhone— And, technology aficionados are ecstatic.  The word on the street is that the iPhone 8 will bring augmented reality that will transform the way we interact with our mobile devices.
The countdown to the release is on, and it won't be long until everyone sees exactly what all the fuss is about. Announcements at Apple's recent WWDC Event revealed an exciting new feature for the iPad –A camera that can put virtual objects onto real objects.
Augmented Reality Has Business Value
Augmented reality overlays digital items on the real world, in real-time.
Perhaps you want to view cars whizzing around as if they're actually on your dining room table—Or a dancing ballerina on the roof of your house?  How fun it this?  The options are endless. You can even point your iPhone or iPad at a restaurant to learn more about its reviews.
However, while there are definitely some practical uses for augmented reality, virtual reality has stolen the limelight in the past. Augmented reality enhances your current perception of reality, where virtual reality replaces the real world with a simulated one.
As augmented reality enters the national consciousness on a more regular basis with apps and games such as Pokemon Go in 2016, it's also a technology that can drive true business value — especially in the manufacturing and education sectors.
It's only a matter of time until AR becomes a daily occurrence. Businesses will make use of mixed reality—For example, realtors will let their clients can walk through buildings before they're constructed, interior decorators can overlay a variety of looks onto a room before making a purchase, and engineers will easily prototype working models and collaborate more effectively. Educational groups are also looking for ways to integrate this future tech into the classroom to encourage students to consider careers in growing fields.
The Challenges with Augmented Reality
There are significant challenges when it comes to the adoption of augmented reality (AR) technology—with most being the lack of affordable, widely accepted hardware. A few options are available, but they're either too pricey or too unwieldy for mass-market adoption.
Smartphones are the best bet for widespread usage of AR. Yet, they're limited in the hardware department—The only product currently on the market that provides the depth-of-field vision required for augmented reality is the Lenovo Phab 2.  But, this could change with the launch of the new iPhone 8.
Experts believe there are four major obstacles to overcome before augmented reality can truly work for everyone.  There's a need for:
An extended battery life
An Apple-quality device
Mobile connectivity
Oddly enough, battery life is expected to be one of the toughest challenges. In order to create a truly immersive experience, augmented reality requires that users use the device for an extended period of time. AR devices such as Google Glass and the Oculus Rift Headset didn't have the staying power or hot-swappable batteries required to gain mass acceptance.
Fortunately, moving the augmented part of reality to a mobile device solves many of these problems, and gets the technology one step closer to mainstream adoption. The only thing missing is the software and sensors required to bring the images to life.
Holograms: Here We Go!
As AR software matures, Apple and Samsung are employing secret teams within their organizations to work on projects leading to realistic holograms (augmented reality).
Analysts hint that the iPhone 8 will potentially leapfrog competitors such as Google, and deliver a true AR experience that's transformational to how we relate to our smartphones today.
The edge-to-edge screen, improved camera, and lack of a home button are all steps in the right direction for Apple to release an iPhone 8 that is AR-ready. However, the most telling feature is the ARKit–a software development kit for iOS 11 that will be released in fall 2017.
Additionally, iOS 11 will be compatible with most existing iPhone and iPads, allowing users to take advantage of some of the cool, new features.
With all the excitement surrounding the iPhone 8 launch, it might be easy to skip the iPhone 7S and 7S Plus release. But, there are some advancements coming to this in-between option as well.
While they aren't expected to be major advances, it's likely that the proprietary wireless charging that Apple's team has been working on, will be available in these new models. The unfortunate news is that the size differential is likely to cause 7 owners to purchase all new accessories. (But good news for Apple.)
Apple's new product releases typically come with secrets, skepticism from critics, and lots of emotions from fans. However, this particular 10th anniversary party is likely to bring new tech to the table.
We just scratched the surface of the potential for augmented reality—But 2018 is poised to be a banner year for driving the adoption of mixed reality of all types.
Want to learn more about how your organization can take advantage of Augmented Reality and other technology advances? Contact Bralin Technology Solutions at (306) 445-4881 or (306) 825-3881 or via email to info@bralin.com. Our professionals will work with you to determine how you can leverage upcoming products and services to differentiate and grow your business.