If you employ a person who is blind or visually impaired, you know that you must make accommodations to minimize or eliminate workplace barriers. By doing this, you not only ensure their safety but their productivity. In some instances, making these accommodations can be costly, so you must take into account the value of making them.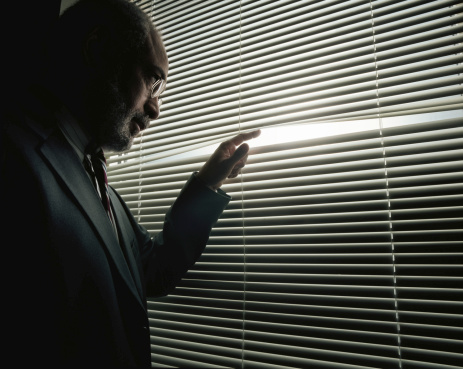 However, installing a digital assistant in the office won't require a huge investment–And the return on this investment for both your blind employee and your business can be game-changing. Your best option today is the Amazon Echo.
What Is Echo?
Amazon's Echo is a popular hands-free smart speaker that you control with your voice. When Echo is connected to the Internet, it can assist with a variety of tasks. Your visually impaired employee can use it to make calls, send and receive messages, get information from the web, make a task list, turn on and off lights, and so much more.
You can purchase Amazon's Echo for as little as $179. The kinds of features Amazon keeps adding to Echo is mind-boggling. This is very promising for employees with disabilities.
What sets Echo apart from voice assistants like Apple's Siri, is its responsiveness. It's completely hands-free. There are no activation buttons to press. Your employee simply speaks a triggering word like "Alexa, "Echo," "computer," etc., followed by what they need to happen, and the task will complete.
Echo, it instantly provides him with the results and information he's looking for. He won't have to flip through pages of a book in Braille, operate an e-reader to read, or navigate a website on an electronic device. Echo will provide him the information he needs by simply asking for it.
The Basic Design of the Echo
The Amazon Echo is essentially a talking cylindrical speaker that connects to the Internet. It's a deceptively simple looking device. It's a black cylinder approximately 10 inches tall, 3 inches wide, with an AC power cord that you plug into a wall outlet. There are two buttons on the top of the Echo: one for power and one to turn the microphones on or off. The top of the Echo rotates either right or left to adjust the volume. The speaker inside the Echo projects throughout a medium-sized room and has several microphones to hear a voice from any direction. You can purchase a remote control separately if needed.
Echo and Alexa
Alexa is the brain behind Echo. It's a virtual assistant that's built in the cloud. With time, Alexa will get smarter and understand your needs. The developers keep adding "Alexa Skills" that bring new capabilities. Of course, you need to set up everything properly beforehand and get used to the system just as you would with any digital assistant, but once you do, it's easy.
Set Up
You must have a Wi-Fi Internet connection to use the Echo, along with access to a computer, smartphone or tablet. Setup requires connecting to the Amazon website to synchronize the Wi-Fi settings in the Echo to enable the various settings, profiles, and "Skills."
The setup can be completed by following the voice prompts from the Echo after plugging it in and downloading the Alexa app from Amazon.com. Although the initial setup requires using a computer or mobile device, once the setup is complete, the Echo can then be controlled only by voice commands. (You will need to use a computer if you want to add a new feature to your Echo.)
After setup, simply say the wake-up word, "Alexa." Responses from Alexa are very fast. Her voice is pleasant, and one of the most human-sounding of all the digital assistants available.
Your visually impaired employee can use the Echo to:
Look up events and appointments on his calendar and find out what his schedule looks like. ("Alexa, what appointments are scheduled today?")
Find addresses and phone numbers of clients, vendors, and coworkers. ("Alexa, what's the address for IBM Research in Austin, Texas?")
Set an alert. (Alexa, set an alarm in one hour to remind me about my conference call with ABC Contracting and Mary White in Accounting.")
Make a conference call. ("Alexa, set up a conference call between ABC Contracting and Mary White in Accounting.")
Listen to a webinar. ("Alexa, turn on the webinar I signed up for today.")
Listen to a podcast. ("Alexa, open Cool Blind Tech from Tunein.")
Pair a Bluetooth device. ("Alexa, pair my Bluetooth.")
The options are endless!
Audible and Kindle
By using the Alexa app, the Echo can be synchronized to your employee's Audible.com audiobook library, or his Kindle. For example, when the employee says, "Alexa, play "Negotiate to Win, by Jim Thomas," the Echo will begin playing the content of the audiobook. To increase the volume, the employee can say, "Alexa, turn up the volume."
Alexa Works with Google and Microsoft Office 365 Calendars.
One of the recent features is the integration of the "Quick Events Skill" with the Google Calendar. This lets your employee add a calendar event completely by voice. Quick Events is enabled in the Alexa App, and a Google Calendar that's set up on his profile calendar. This only needs to be performed once from the Alexa app to get the feature started.
Once enabled, Alexa will record a calendar event by voice, using the command, "Alexa, open Quick Events." Then, your employee simply listens and responds to Alexa's prompts to add the calendar event. Once complete, the employee can review events in the calendar by asking, "Alexa, what's on my calendar tomorrow?"
Amazon recently announced that its connected speakers and other Alexa-powered devices will work with Office 365 calendars. Through this integration, your blind or visually impaired employees can use voice commands to control their O365 work calendars, adding meetings and seeking information about upcoming appointments.
Echo and Alexa Can Control Appliance Switches.
The Echo can be configured to work with some appliance switches, such as the Belkin WeMo smart switches or the Phillips Hue smart luminaries. Once configured, your visually impaired employee can turn on and off certain appliances in the office using a voice command, "Alexa, turn off the fan," or "Alexa, turn on the office light." This feature would require the additional purchase of appliance switches to work with the Echo.
Conference Calling
Your employee can use Alexa to connect to meetings by controlling existing video conferencing equipment or by using the Echo device as a speakerphone. If there's no scheduled meeting, Alexa prompts your employee for the meeting ID and optionally the PIN to join the meeting, and makes a PSTN call to your conferencing provider.
Amazon is Working to Make Echo a Key Component in The Workplace.
The company is hoping to make Alexa a virtual office assistant. They're testing ways where Alexa can be used to automate daily work tasks into a few voice commands. For instance, to collaborate with Salesforce and FinancialForce, which would make it easy for a visually impaired user to interact with complex business software using voice commands. A great deal of content from the Internet is available by enabling the various Alexa Skills Amazon's developers are quickly churning out.
As we said, the opportunities are endless for both the visually impaired and your sighted employees!